Sharing papers is incredibly helpful in connecting with your community and disseminating valuable, relevant information. There are a variety of scenarios where Read's paper sharing feature can be maximized and luckily the process is fairly simple! Here we will discuss some of the methods on how to maximize sharing a single paper through Read or our One-Tap-To-Full-Text link.

Note: Papers can be identified through their PMID. A PMID is a digit-based code used to help identify papers. Please see below in "How To Share Individual Papers #2" to learn more about how to find the PMID of an article.
Benefits of Sharing Papers:
Read mobile allows easy access to millions of articles as the application does not require users to re-login or click through multiple links each time they want to view a paper, allowing recipients of a shared paper to have easy accessibility to the article.
Read paper links are all copyright compliant as they only share the citations of the articles. This means that the person you're sharing the citations with would have to have their own Institutional Access through Read in order to access the full-text of the article (if pay-walled).
Millions of medical papers are readily available and constantly added from PubMed's database.
Reading a paper that has been shared will help Read provide recommendations to similar articles.
Papers that are sent through Read, makes it easier for the recipient to add the article to their Personal Collection or Favorites.
Read automatically syncs with other applications that make links to individual papers shareable, even if the recipient does not have Read.
Use Cases:
Universities & Hospitals: Professors, students, and medical colleagues that are affiliated with the same university or hospital as you, will have access to the same article and journal subscriptions. This means that sharing, accessing, favoriting, and organizing articles can all be done in one place, making it easier for those that share the articles and the recipients.
Blogs/Reviews: If you are a librarian who writes blogs for an institution, a medical practitioner that wants to discuss the latest trending article from your field, or a mobile apps enthusiast who writes reviews, you will probably want to reference or provide a link to the paper that you mention in your written piece. Instead of copying and pasting a link to your website and making the audience click through multiple links to get to the paper, you can send them directly to the article in Read. The One-Tap-To-Full-Text link can be hyperlinked to a text or an image, making it look much nicer and provides easy access to articles for both avid users of Read and even first timers. (Example below)
Check out this trending article NOW!
OR
For more information about "Open in Read" buttons, click here.
Quality Improvement & Current Awareness: With thousands of articles being published everyday, you can help keep your community stay updated to the latest developments in their field in order to deliver the best quality of care.
Peer to Peer: The best part of sharing articles through Read is that there is instant access since everyone is on the same platform. There is no need to search for the article, go through multiple links, and login each time someone sends an article. If the user you are sharing the article is not logged into Read or does not have a Read account, the One-Tap-To-Full-Text link will still take them to the article through Read.
How To Share Individual Papers #1:
When you find a paper you would like to share, click on the icon that is shaped like a box with an upwards arrow.
A list of options should appear. Here, you can choose to Email Article or Share Link to Article, which should prompt a pop-up to allow you to do that. You can also choose to Copy the title, abstract, or PMID of the paper if you would like use that to share the paper.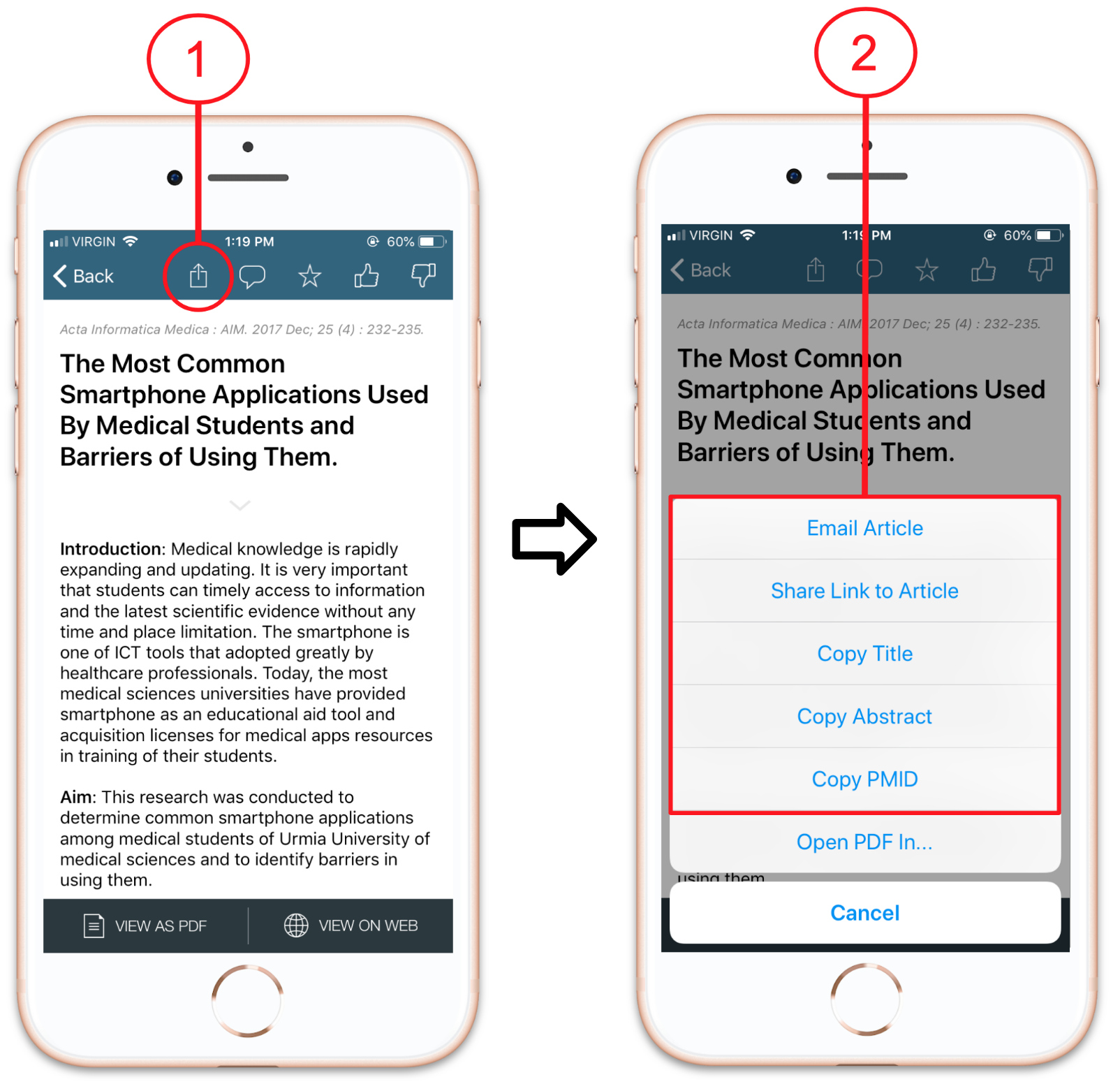 How To Share Individual Papers #2: One-Tap-To-Full-Text Feature

Share this link with whoever you would like to share the paper with. Before you send the link make sure that you have replaced the end of the link, where it says [PMID], with the PMID of the article. A PMID is a digit-based code used to help identify papers. This link will take a user directly to the full-text paper. If the user does not have the Read application or if they are on a computer, the link will take them to the web version of Read. Here's a little breakdown of how the One-Tap-To-Full-Text feature works:
How to Find PMID:
Click on the downwards arrow right below the title of the article you would like to share.
The PMID will appear. Copy and paste this PMID to the end of the link, https://qxmd.com/r/PMID. Example: https://qxmd.com/r/29284911. This will take the user directly to the paper shown below.